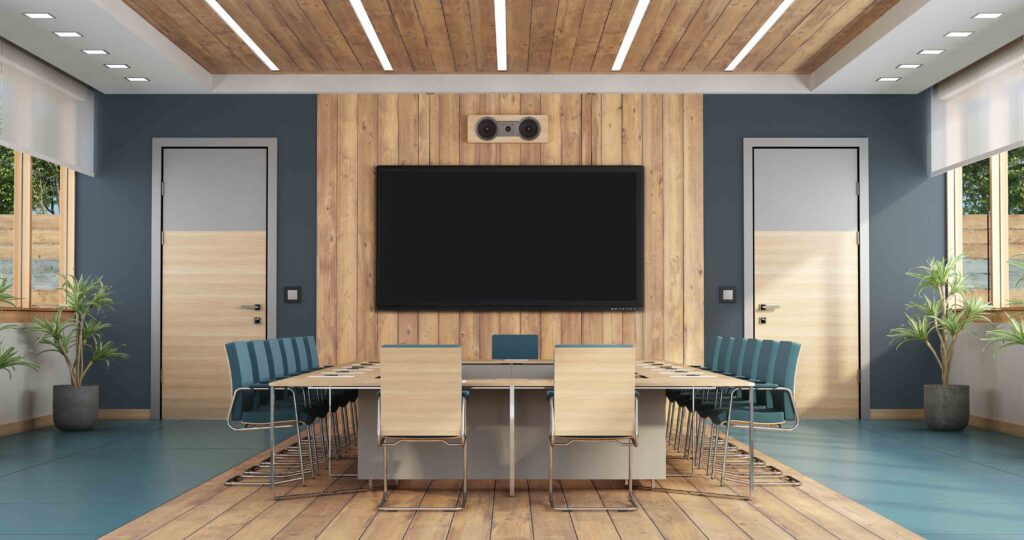 As we grow into our new routines, whether they be remote, in the office or in a hybrid model, the meeting room is still the quintessential space for collaboration. Besides the tables and chairs, there are five essential items for hosting consistent, modern meetings and luckily, AVT.ca has the solutions to keep it simple for you.
1. Scheduling: Making a room easy to book
Simple solutions for booking meeting rooms are a must-have for the modern workplace. Now that hybrid and remote working have grown exponentially in popularity, it's more important than ever to onboard tools and systems that integrate well within your organization. Automated, connected and integrated room booking software you can check at a glance removes the chance of double-booking. Easy-to-use meeting room onboarding processes will keep your experts productive and on task; background analytics also allows you to track room booking trends so you can keep rooms well utilized. AVT.ca's top recommended scheduling tool: the Logitech Tap Scheduler
2. Virtual Conference Software: Keeping the connection seamless



Connecting to a meeting is always a tense moment. That unexpected update, the confusion about the platform, is it compatible with the hardware or software currently in the meeting room? Working with AVT.ca can make these edgy moments disappear through our professional system integrations. The curated catalogue of products we deploy works in harmony with popular platforms, with the ability to adapt and grow with your business. AVT.ca's top recommended streaming tools: Microsoft Teams, Zoom Meeting, Cisco WebEx
3. Sound: Hearing and speaking clearly
Clear and crisp sound is essential to running meetings with ease. Issues such as background noise, bad acoustics, volume control and clipping can turn a great meeting into a dealbreaker and quickly lead to disengagement with your audience. Thoughtfully designed sound systems which include sound masking and room size accommodations are all considerations when AVT.ca designs your space. AVT.ca's top recommended sound tools: Cambridge QT X series by Biamp, Poly Studio x30 and x50
4. Video: Uncompromising quality picture and video

Multi-location meetings require quality cameras, top-notch bandwidth and 4K displays to be able to conduct well-functioning meetings with multiple participants in different locations. AVT.ca's all-in-one and AI-enhanced conference cameras and displays keep participants focused, letting the software keep track of who is speaking with auto-focusing. Optimize by adding gesture prompts for minimal interaction with software and enable auto-enhance lighting and colour correction as you go for an ideal playback experience. AVT.ca's top recommended video tools: Aver CAM520 and CAM550
5. Collaboration: Brainstorming better ideas

Location isn't an issue for gathering a team together for a working meeting when you have the right tools for the job at hand. Instead of troubleshooting software,  AVT.ca can help the efficiency and creativity of these meetings with tools that utilize interaction and AI for brainstorming, prototyping and anything else your seeking to collaborate on. AVT.ca's top recommended collaboration tool: Huddly Canvas
Thoughtful AV starts here. AVT.ca can design and support meetings that are easy to host, with consistent quality and optimal function by employing tailored solutions that fit and grow with your organization. Contact us today to get started!